Eleonor Palacio
"I will never be fully 'Aussie' or fully 'Argento', or perhaps I am fully both and much more"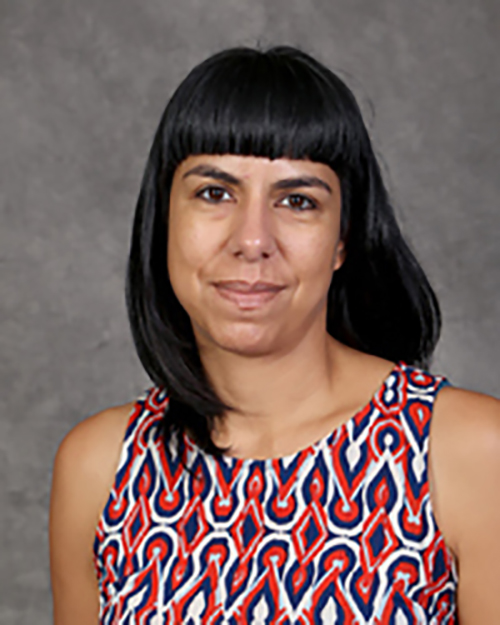 Country of origin: Argentina
Occupation: Director and founder of Farolito Spanish Language School. State of Residency: VIC. Favourite place in Australia: Wilsons Prom - I find peace and a sense of freedom in the sounds and immensity of nature there. Upon arrival: surprised by Melbourne's peak hour. Coming from Buenos Aires, it seemed like siesta time for me. The city has definitely changed since then.
By Trini Abascal
Eleonor is a passionate Spanish language teacher and the Director of Farolito Spanish Language School, an enterprise fully dedicated to the teaching and promotion of the Spanish language, which she first started ten years ago. She is also very involved in community events in Melbourne for the promotion of the Spanish language and the cultures represented by it. Through Farolito, and through the years, she has supported many social events and organisations, such as Melbourne Filmoteca, Ventana Festival and the Spanish Language Fiesta, to name a few.
TELL US YOUR STORY
I arrived in Australia for the first time in 2001, just before the outbreak of a mayor economic, social and political tumultuous time in Argentina. I had come to visit my eldest brother, who lived here with his wife and two young daughters. I was happy to meet my nieces and spend some time here as a tourist, and I also found love, as you do. After some time away travelling in Asia, Italy and living in Holland for some months I came back and applied for residency as a de-facto partner. At the beginning it was hard to get established; especially when you live with the uncertainty of whether you will be allowed to remain in this country or not. Living in a state of limbo makes planning for the future a strange concept - but I was also very young then (early twenties). Luckily, I was embraced by a network of people through my partner, my brother and my sister-in-law who were welcoming and made me feel part of this community very quickly. Some belonged to the arts scene in Melbourne and it was exciting to join a buzzing group of doers, and to even attempt some absurdist theatre performing myself.
As I was originally trained as a translator in Buenos Aires, since arriving to Australia in the early 2000s I started teaching Spanish to friends and then friends of friends until I discovered that I actually loved sharing my language. A few years after my arrival I completed a Bachelor of Arts majoring in Linguistics and Anthropology and later a Diploma of Education; with a clear focus on becoming a Spanish language teacher. I then started teaching Spanish at high schools as well as running Farolito Spanish Language School, offering language courses for children, teens and adults. First, the classes were offered at home. When the students became too many to work from home I decided to hire a classroom at the local community centre in Elwood, and later at Ross House Association in the city centre, where I started to expand my timetable and hired other teachers. After a couple of years of running around doing classes for myself and at adult education centres, I thought it was time to open my own place and dedicate myself to Farolito full time, which I did from 2011 when I opened our own premises in South Yarra. In Farolito we believe that social connection is what makes us strong as a community; therefore we have had the pleasure to collaborate with organisations and events such as Melbourne Filmoteca, Cine Latino Film Festival, Ventana Festival and others during this time.
I currently live with my partner of many years and have the privilege to be close to my extended family, as my two brothers and nieces and nephews live in Victoria as well. This has made Australia feel even more like a new home. During all these years in Australia, I have come to the realisation that I will never be fully "Aussie" or fully "Argento", or perhaps I am fully both and much more. Being "the other" in Australia (that is, of non-Anglo heritage) forced me to reflect on the culture I grew up in, its strengths and negative aspects, which I had not thought of in any detail before. These early years were a time of incredible growth as a person, which instigated a sense of curiosity about the history of this country I was starting to call home. Even though the weigh carried by defining a person by its nationality has become much more fluid as I have spent time away from my country of birth, I do feel Latin American, there is a warmth and shared complex history which unites us and this becomes evident when you are far away from the land that used to be your home.
CHALLENGES
Connections - I would say that although I was very lucky to meet fantastic people, not having a network of personal connections was challenging at times and I terribly missed my friends the first couple of years or so. However, Melbourne was a small city and once I became part of a community it was easier to expand my circles of friends and acquaintances.
Costs of studies - I was very keen to continue my studies in Australia, but the financial cost for international students was beyond my possibilities at the time and thus, I waited until I became an Australian citizen to access University studies in Australia.
Aging parents far away - This is a serious issue I am currently facing, and I hope to bring my mum to live in Australia with us; though I know making a move at a later stage in life is more challenging than for a young person.
CONTRASTS
Relaxation - I notice that people smile in Melbourne, particularly every time I came back from Buenos Aires. The pressures of a big city and the ongoing economic and social crisis means people are stressed and appear upset on the daily commute. Of course, this also contrasts enormously with the many manifestations of culture which bring happiness to be shared, such as carnival on the streets of Buenos Aires, as these are outlets for people to release their sorrows. But people in Melbourne seem more relaxed on the day to day life.
Political ingenuity or disengagement - There is a saying that goes "one Argentinean equals two political parties", and I think there is a lot of truth in it. You cannot talk to an Argentinean (of any social background or political inclination) for more than five minutes without making some reference to politics. Although there is more of that this federal election season, I think many Australians are perhaps not as politically engaged or eager to share their views about it.
Diversity – In Melbourne you can find people from all over the world. It is true that Buenos Aires is a cosmopolitan city, but it runs very short of the cultural diversity you find in Victoria. City of Dandenong alone has residents from over 100 nationalities, I find this fascinating!
PIECE OF ADVICE
Enjoy multiculturalism - Embrace every opportunity to meet new people and learn from the many cultures present in this amazing city. While I was working in hospitality, I really enjoyed the experience of meeting new people from so many diverse backgrounds.
Ask for help - Don't be shy to seek help, there is a growing community of Spanish speakers willing to support each other.
Get involved - Melbourne is a vibrant city with a myriad of activities, find your interest and get involved! For example, I am part of the dance and percussion group "Murga Madre", bringing alive the murga style carnival dance and song of Buenos Aires in a multicultural and inclusive collective welcoming everyone to join!
Eleonor showcasing Latin American culture through Murga Madre
IN THE NEXT FEW YEARS…
Eleonor would like Farolito Spanish Language School to continue offering quality learning experiences to their students and participants. She will be continuing to support the showcase of Latin American culture in Melbourne and perhaps contribute to make murga the new Latin dance of choice for Melbourians!